The Way We Learned: The First 100 Years of Clarkston Schools
This exhibit premiered with the grand opening of the Clarkston Heritage Museum. Original materials dating back as early as 1835 included an exquisite sampler embroidered by 12-year-old Emma Adams Parker. Also included in this display were school arithmetic and spelling books, along with many class photos taken in the early 1900s.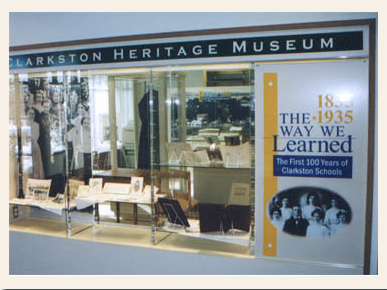 The high top, lace up boots worn by schoolmarm Ethel Cleveland and a long black wool dress and petticoat were a popular attraction. Clarkston district record books detailed the policy of requiring the family of each child to supply a 1/2 cord of wood to help heat the school wood stove; an interesting form of tuition! This exhibit was especially popular as a field trip destination and we provided hundreds of elementary school children with a combined Museum tour and program.