From the Beginning:
The Native American Story
This exhibit took a step back in time to Clarkston's very first inhabitants. With artifacts dating as early as 8,000 years ago, the stone tools and handmade birch bark baskets tell us the story of a very different lifestyle. Featured in this exhibit are four dioramas, each one depicts a miniature Native American village in a different season.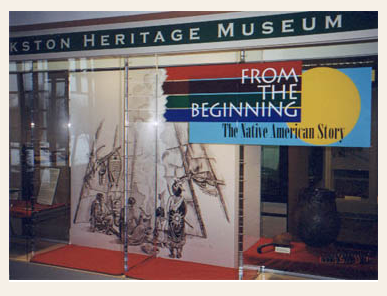 These wonderful scenes are incredibly complete and are fascinating to see. Other items on display included beautiful porcupine quill boxes, beaded moccasins, clay and stone pipes with wooden "puzzle" stems and carved wooden utensils. This collection also includes a variety of stone points, from tiny bird arrow points to large axe heads weighing several pounds. This entire exhibit was of particular interest to children and was extremely popular.