A Jump in Time:
Clarkston Photos Past and Present
This interesting exhibit took a look at Clarkston's history from a different perspective then past exhibits. Over 40 historic photographs dating from as early as the late 1880's were displayed along side a current photo of the same scene.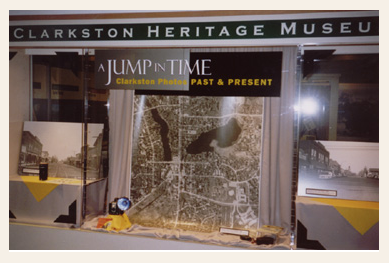 This allowed residents to gain an understanding of the changes that have occurred in our town over its 160-year history. A shot of Main Street as a dirt road with a horse and buggy sitting at the curb was paired with the same scene that now includes a paved road, sidewalks and mini-vans. As well as demonstrating how much the town has changed, this exhibit also reminded us of what remains. Brick buildings on Main Street, historic homes and views of the Mill Pond all come together to give Clarkston its strong sense of history.