Clarkston in Conflict:
From Hometown to Homefront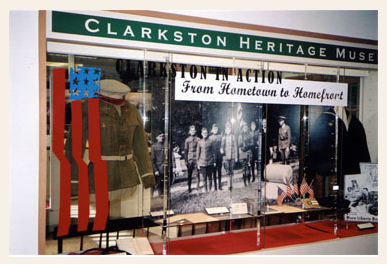 This was the eighth exhibit since we first opened the Museum, and a particularly timely one. The theme of this exhibit focused on local connections to the Civil War, World War I and World War II. With all that is happening in the world today, this exhibit gave the viewer an opportunity to explore how these previous conflicts affected this small town and those who lived here. From Civil War bullets to a German military belt buckle, there was a wide range of artifacts offered for viewing.
Also displayed were military uniforms as well as war bond advertisements and a program from the Independence Township 1942 Birthday Ball where the big door prize for the evening was $8.00 in Defense Stamps! And in this time of plenty, it was difficult to imagine using the ration books for food and gas that were on display here. Other items included a WW II scrapbook kept by a young woman in Clarkston as well as items from a WW I Spruce Camp. We believe that this exhibit was a fitting way to offer our respect to all those men and women from Clarkston who fought for our freedoms.