Capturing Clarkston:
A Celebration of Everyday Life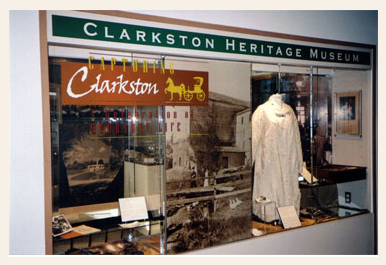 This exciting exhibit is full of a variety of Clarkston artifacts and focuses on the daily life of village residents. Each display case is built on different themes such as elementary school, high school, early childhood, business, women's fashion and religion. As an example, our early childhood case includes a wonderful wind-up toy giraffe, child's parasol, hand stitched nightgown and great images of children in the early 1900s. For the elementary school case, there is a wrought iron and wood child's school desk (complete with inkwell) and early school documents and photos. Because small children have a way of growing up we also cover the high school years with old yearbooks, a megaphone and a marching band baton, as well as photos of the local soda shop and pool hall! For the feminine side we have a Clark family quilt, beautiful black chenille cape, silk embroidered coat and silver hair comb and coin purse. On the fun side, there is a nice collection of items from when Clarkston was a popular tourist destination. Artifacts such as a souvenir glass vase, postcards and a matchbook advertising a local lakeside inn are a part of this display. From silk coats and china dolls and local hardware artifacts, this is an excellent exhibit with something for everyone to enjoy.