Death on the Millpond:
Clarkston Tragedies, Accidents & Losses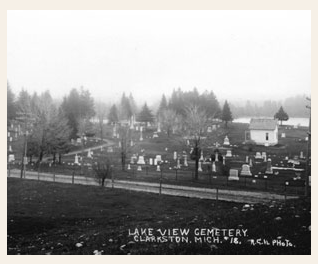 This display was unlike anything we had ever done in the past and it proved to be one of our most popular exhibits. The subjects explored ranged from local fires, floods and cyclones to tragic deaths and misfortune. Also included was a wonderful display on Victorian mourning customs of the nineteenth-century, as well as a large collection of memorial hair jewelry. Local cemeteries were featured and the symbolism of tombstone art was explored. Death was a very familiar part of life in early Clarkston. Our founding pioneers were faced with hardships every day and survival was never guaranteed. But they persevered and built a thriving community that their children could be proud of through many generations.